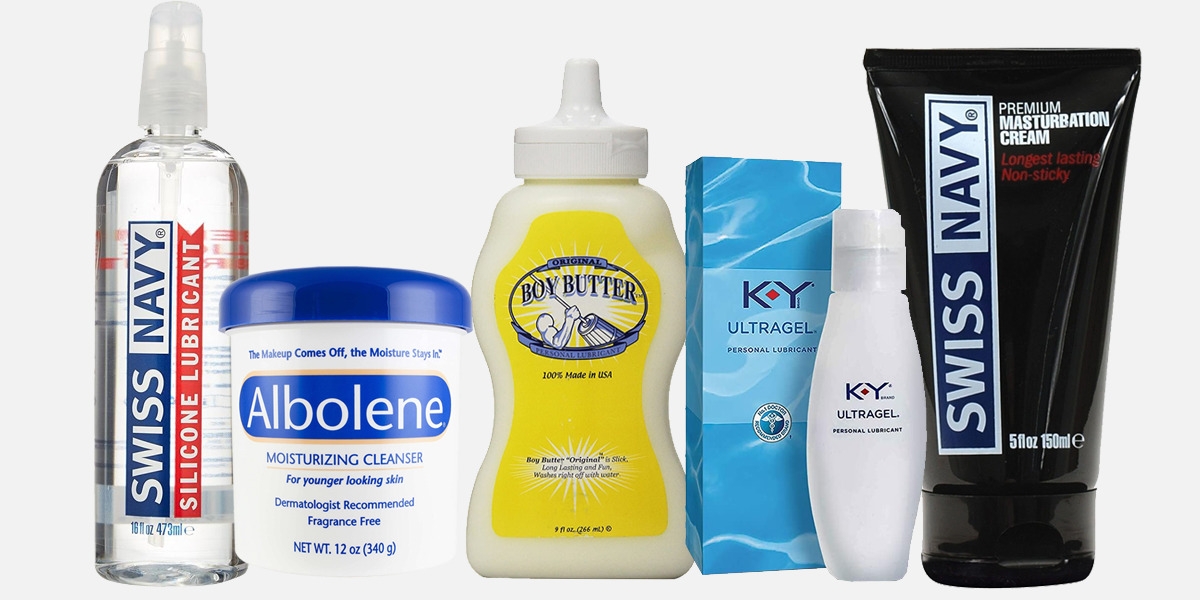 The best lubes for circumcised men
One of the things anyone who is circumcised will quickly learn is the difference lube makes when you jerk off. A good lube can be the difference between a disappointing orgasm and a really, really good one.
Since getting cut I've made it my mission to try and find the best lubes for jerking off. Here are my very scientific findings!
(This article looks at which common household products make good lube if you have run out or cannot get hold of 'proper' lube.)
Albolene – my favourite for jerking off!
Albolene is not technically sold as lube but marketed as a make-up remover. However, men have been jerking off with this stuff pretty much since it has existed. It's made of a mineral oil and is a pretty thick consistency, almost solid. It melts on contact with the skin to create an amazingly slick lube that never dries. It's fairly clean and easy to wipe off after and doesn't leave any weird residue. It also moisturises your dick whilst you jack off!
Not condom safe.
Price: ≈ $10 for 12oz tub (340g). Buy on Amazon (US). Amazon UK.
Boy Butter
This lube is specially designed for jerking off. It's made from a coconut oil and silicone blend, and starts of white but melts on the skin. Whilst it's good, I've found it isn't quite as slick as Albolene and seems to go through various cycles of slickness and tackiness during a masturbation session. It also cleans up nicely with a towel (I often use an old pair of boxers from the wash).
Not condom safe.
Price: $18 for 8oz (230ml), also comes in smaller sizes. Buy on Amazon (US) or Amazon (UK).
Swiss Navy Masturbation Cream
Similar to Boy Butter, Swiss Navy Masturbation Cream is specially designed for jacking off. It's based on a mineral oil formula (so similar to Albolene) although it looks and feels more like Boy Butter. Again, it melts on the skin to create a slick fluid that doesn't dry out. I've only used it a few times but it have the edge on Boy Butter although the two are very similar.
Not condom safe.
Price: $15 for 5oz tube (150ml) Buy on Amazon (US) or Amazon (UK).
KY Ultragel – my favourite all purpose lube
KY Ultragel is one you're most likely to find in most pharmacies or supermarkets. It's a really nice water-based option, and it comes in 1.5oz size which is great for traveling. You can also get it in larger sizes. It is my favourite water based lube because it does not dry out super fast like other water based lubes. It feels almost like a silicone lube, although it doesn't leave the same residue. It does dry slightly sticky. It's a great all purpose lube – for sex, jerking off or using toys, since it's compatible with all.
Price: $7 for 1.5oz (40ml). Buy on Amazon (US).
Swiss Navy Silicone lube – my favourite for sex
This is my favourite lube for anal sex, although I don't really like using to jerk off and it isn't always compatible with sex toys. Silicone lube is great because it just never dries out, although it is very, very runny and therefore a little messy. It can also stain, although I've never had issues. It does leave a slight water-repellant residue on the skin that is hard to wash off, but this isn't a big problem.
Price: $15 for 6oz (175ml), comes in a variety of sizes. Buy on Amazon (US) or Amazon (UK).
What are your favourites?
Although I've tried a bunch of different lubes, I haven't tried them all! What do you use and why? Leave a note in the comments and I'll see if I can get my hands on some!
Disclaimer: this site may receive a small commission every time you make a purchase via the above links. Thanks for helping to keep this site running!